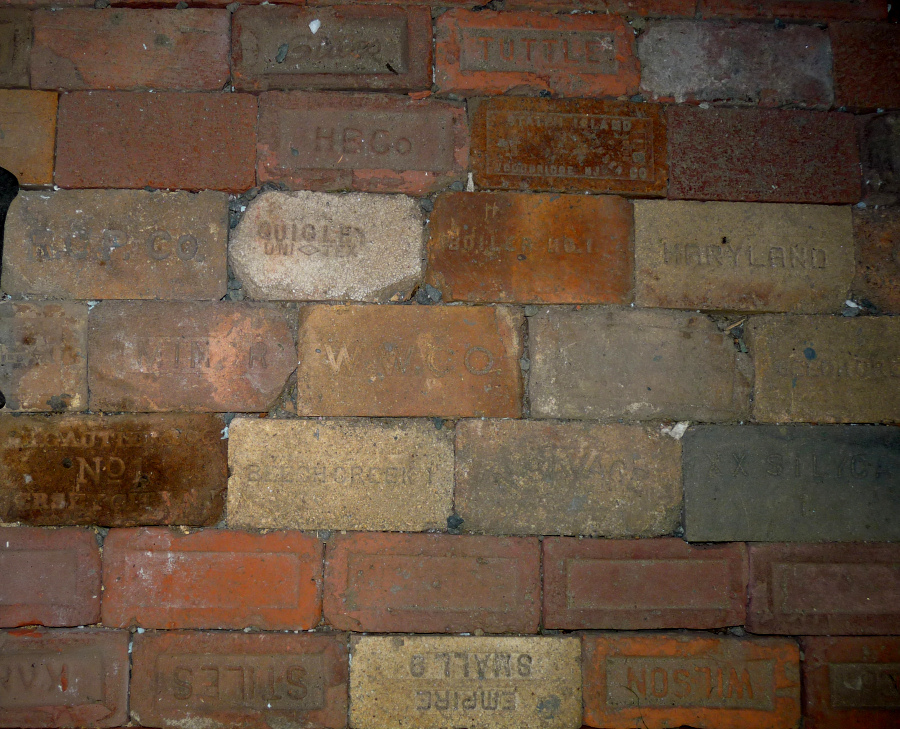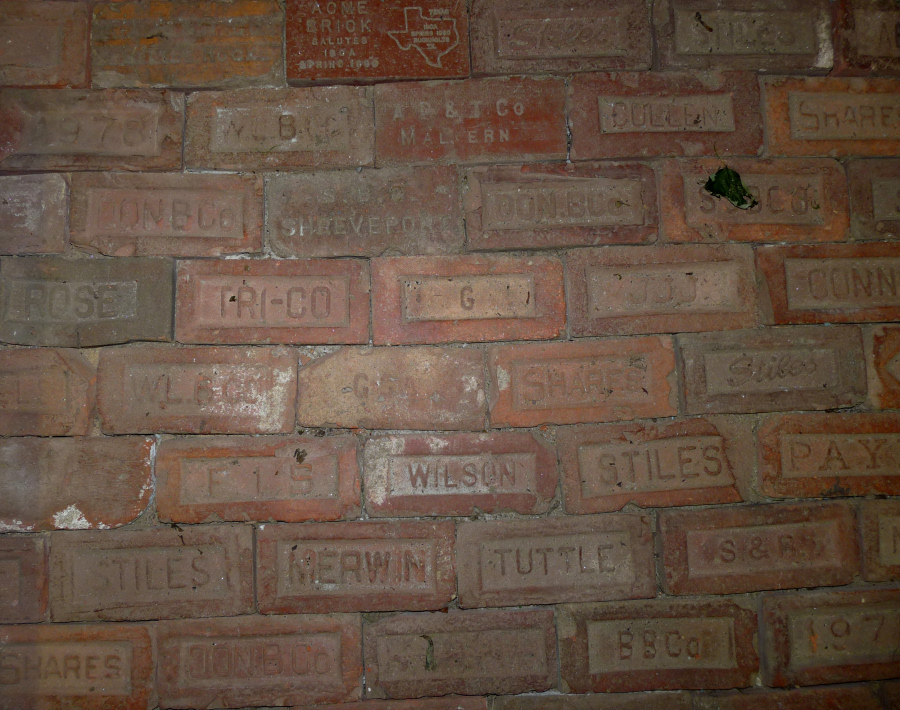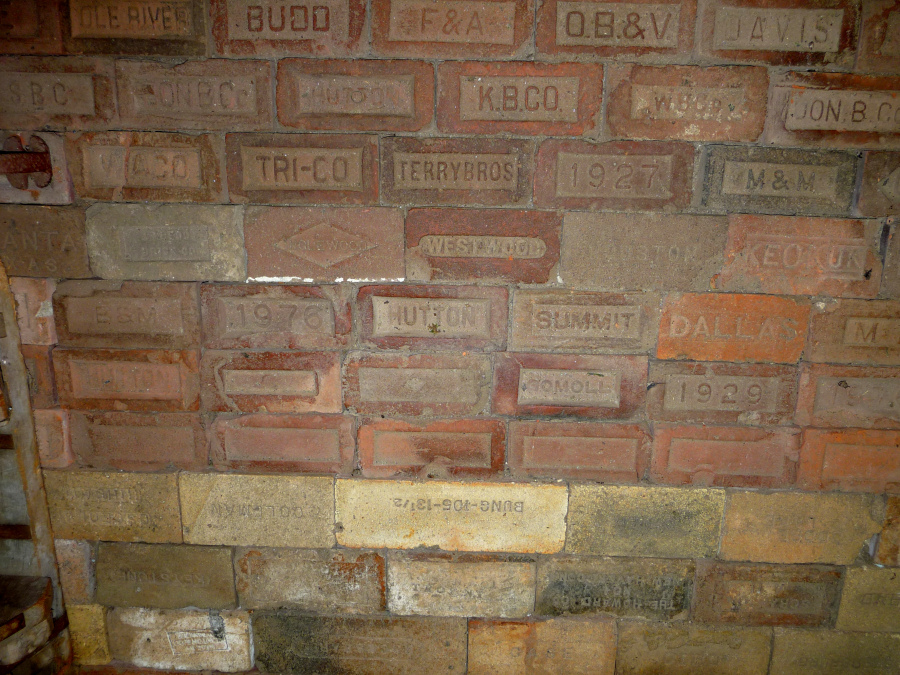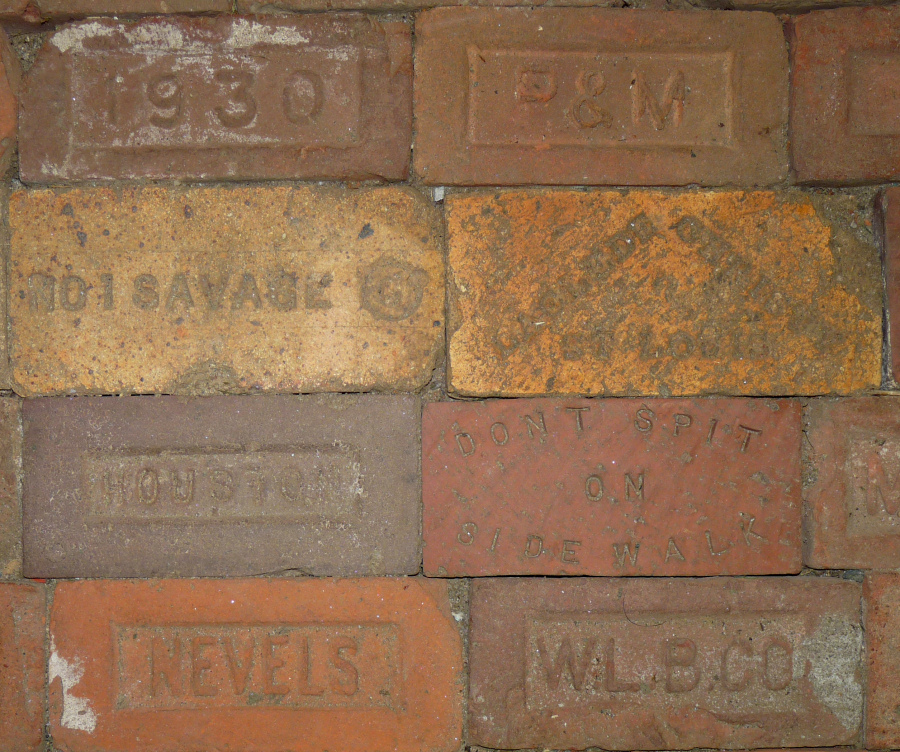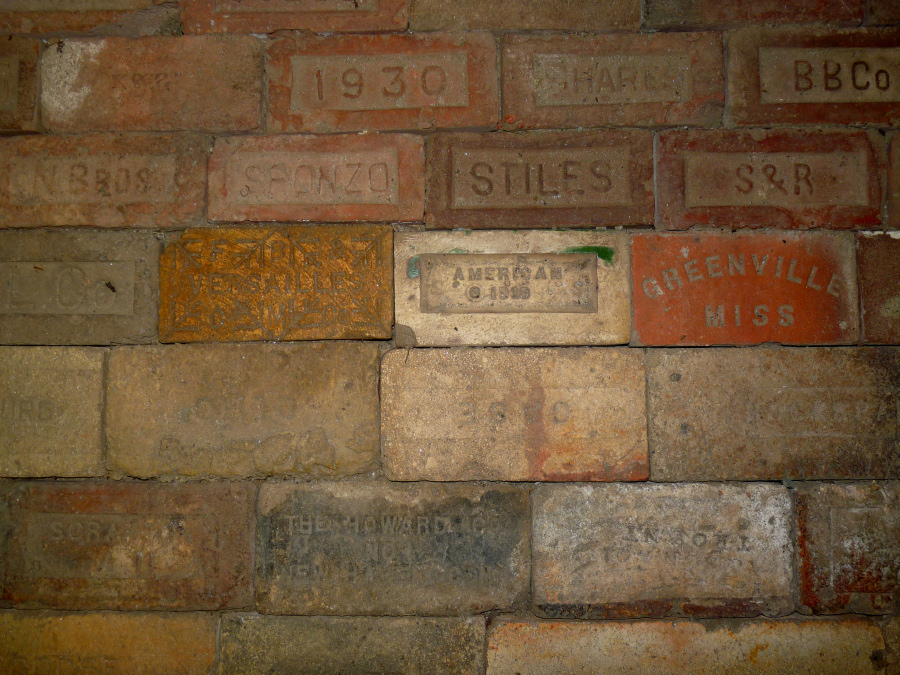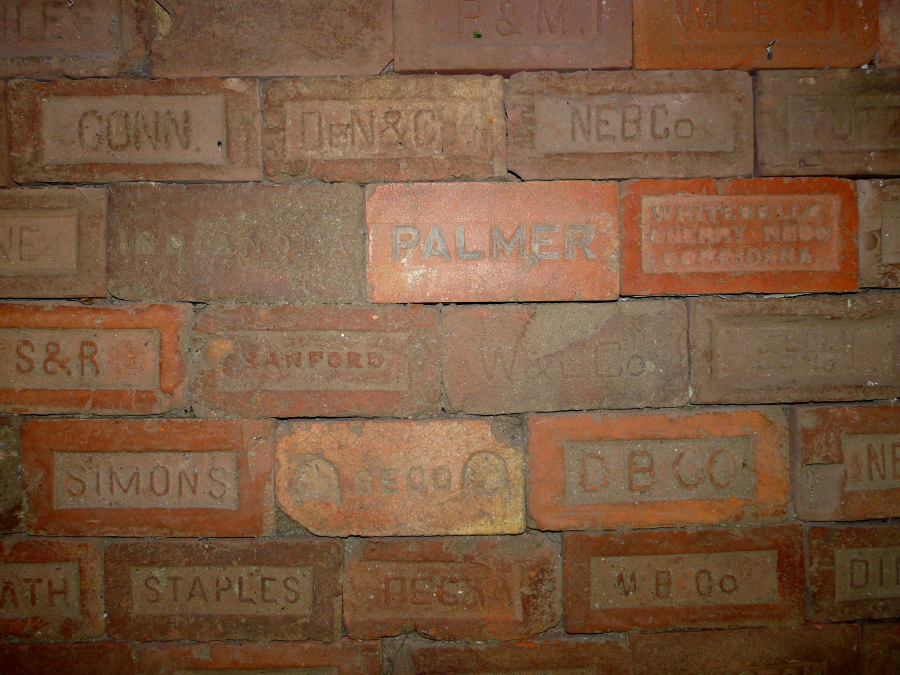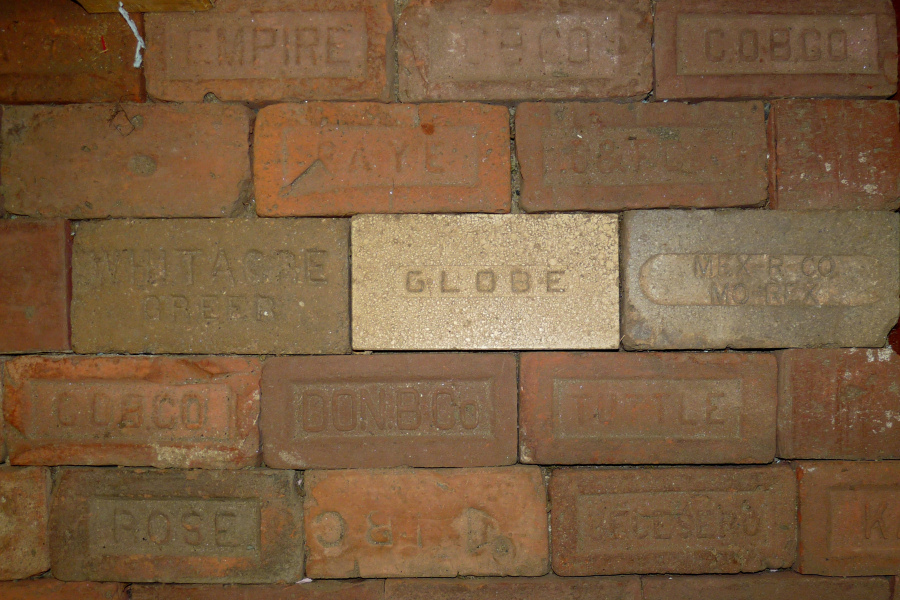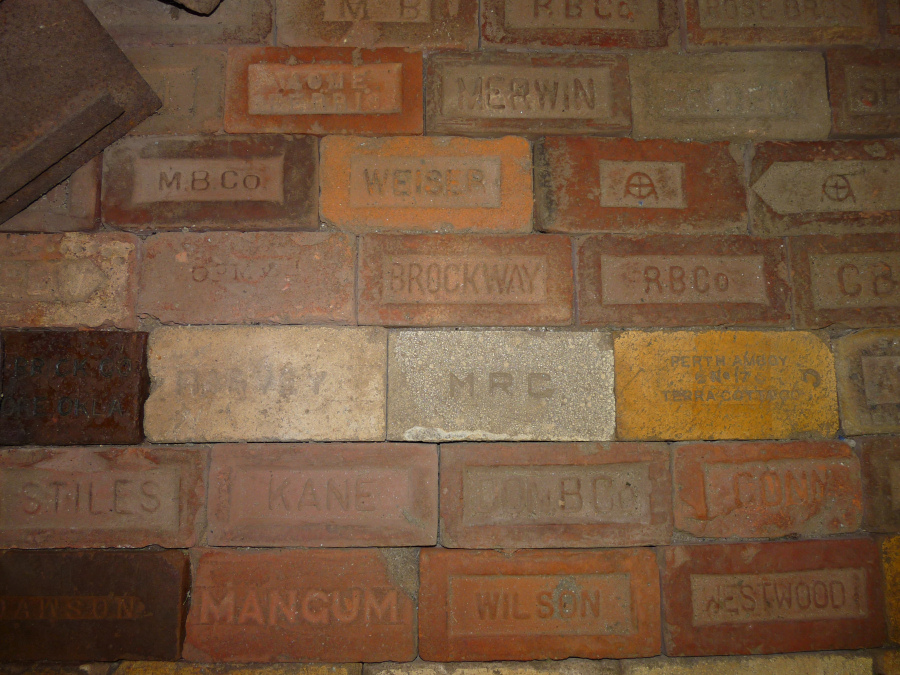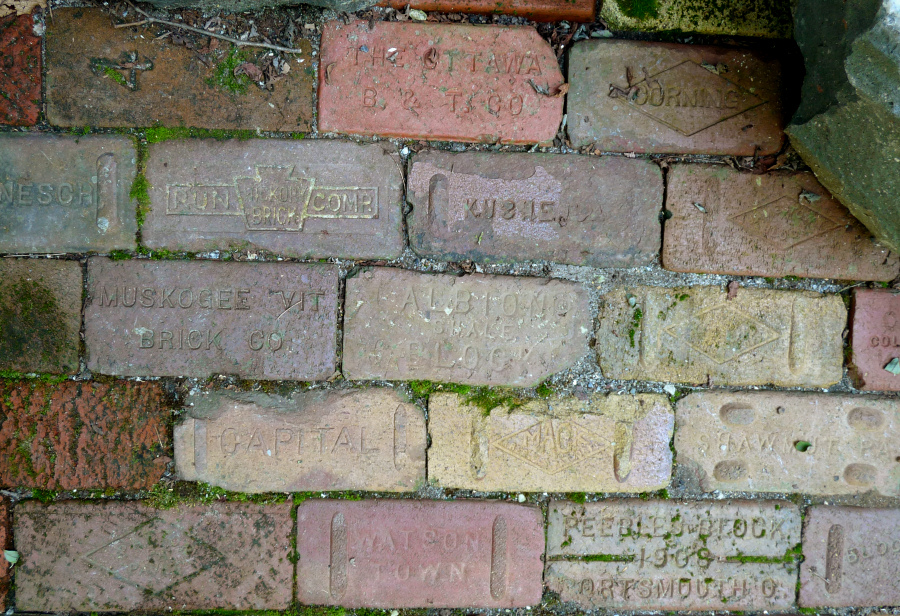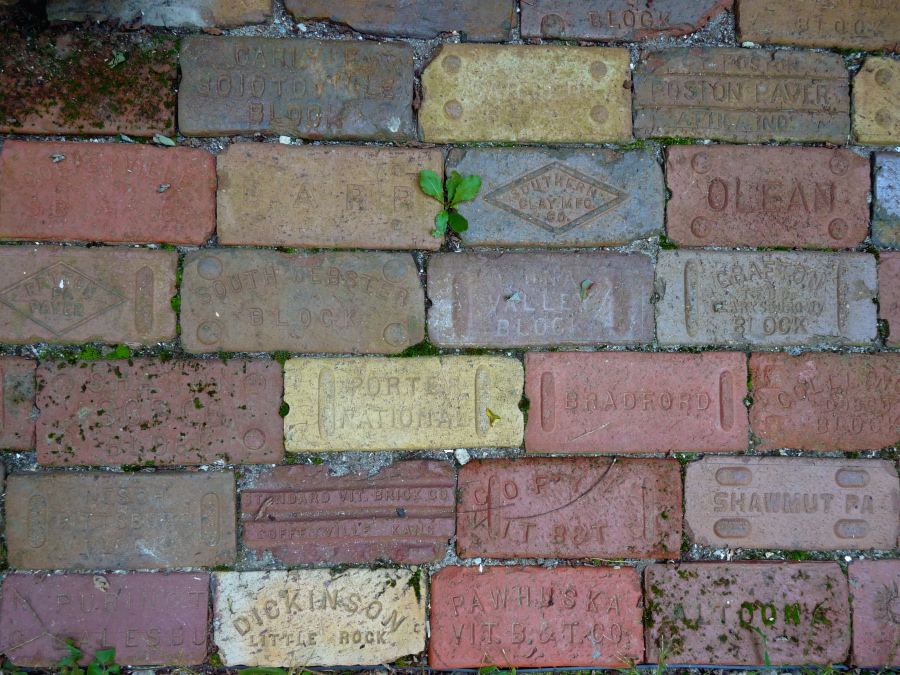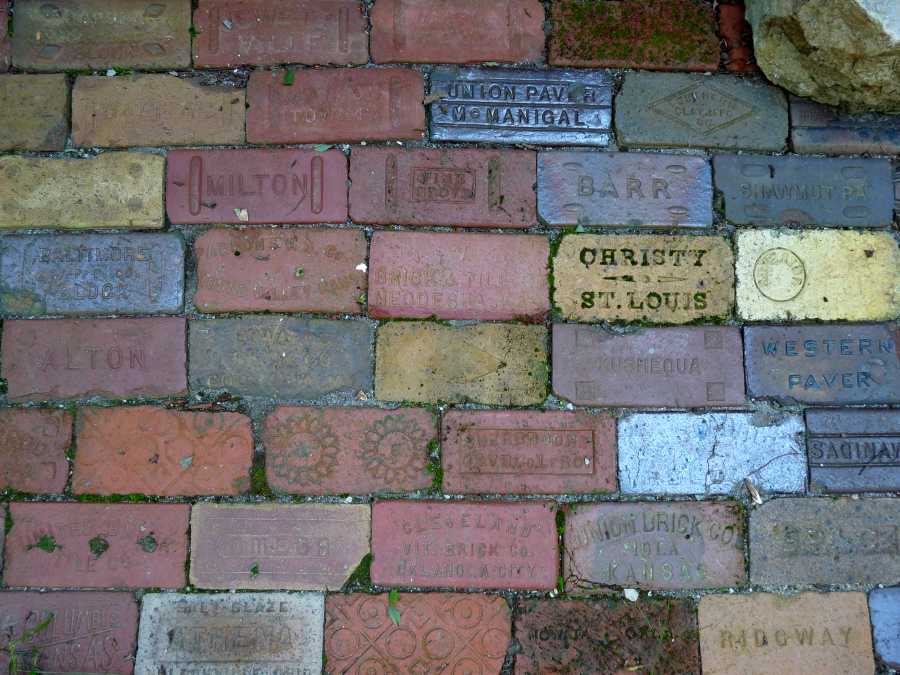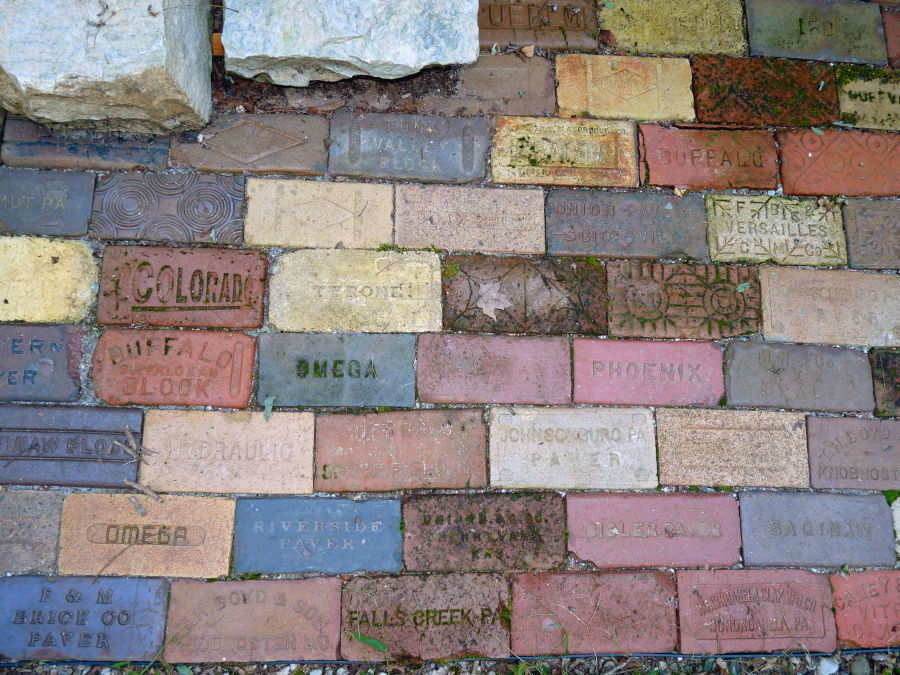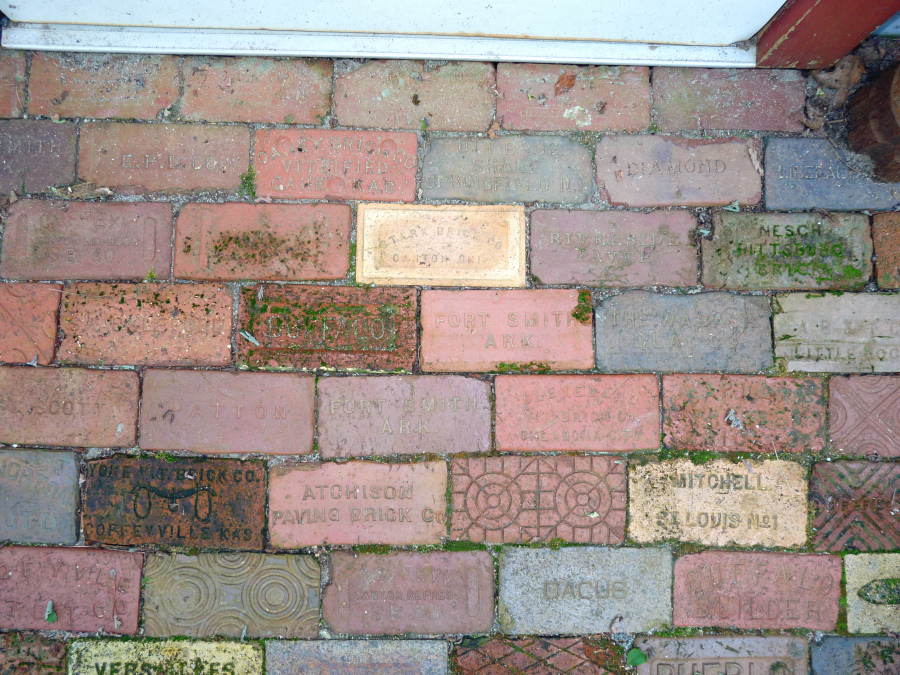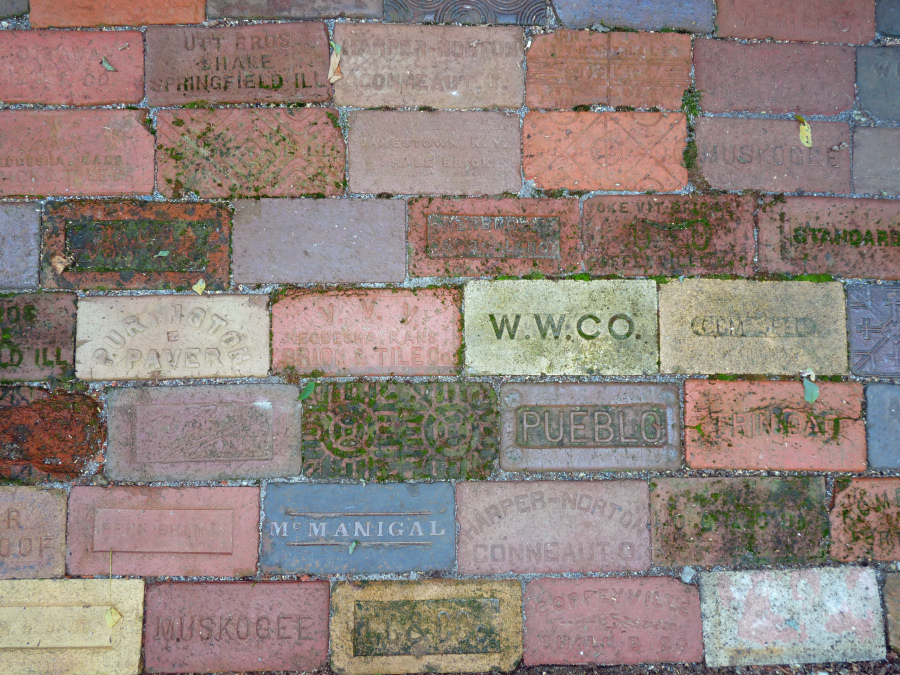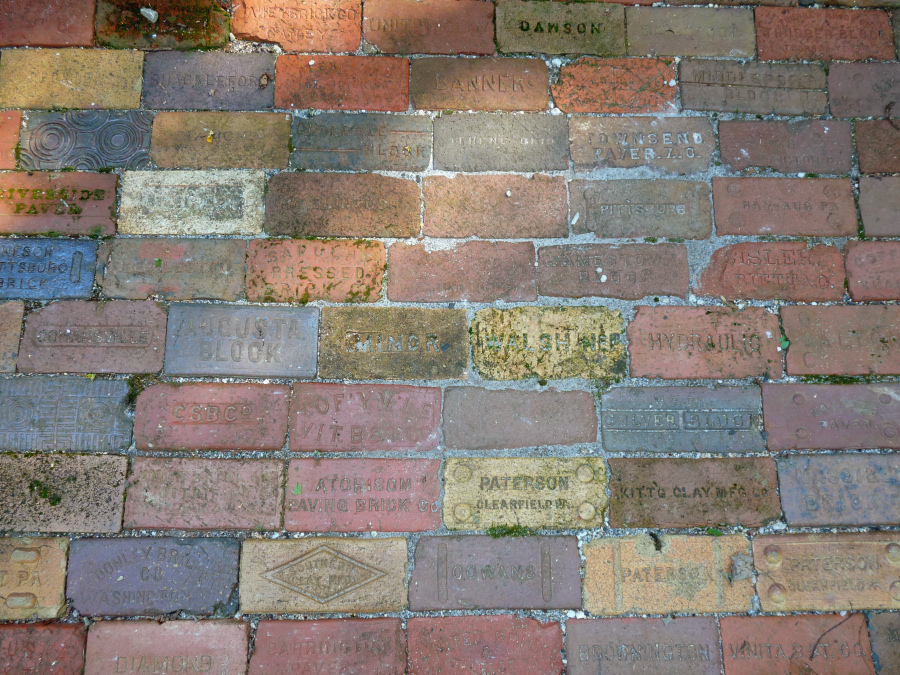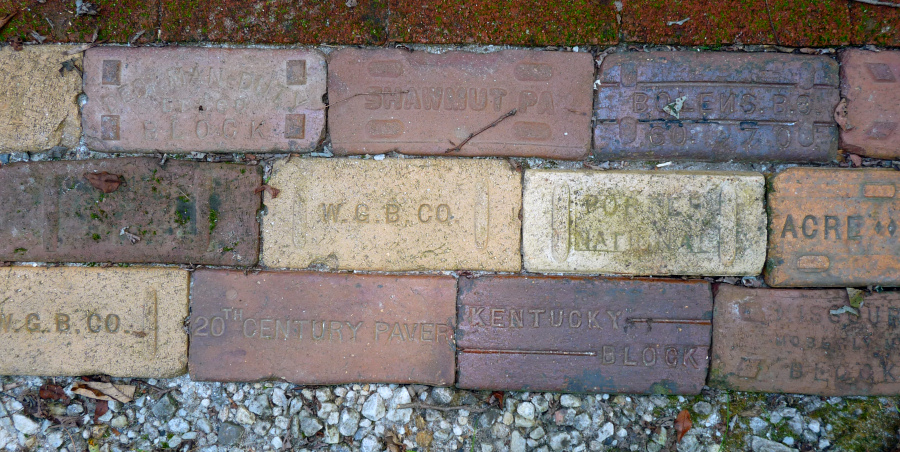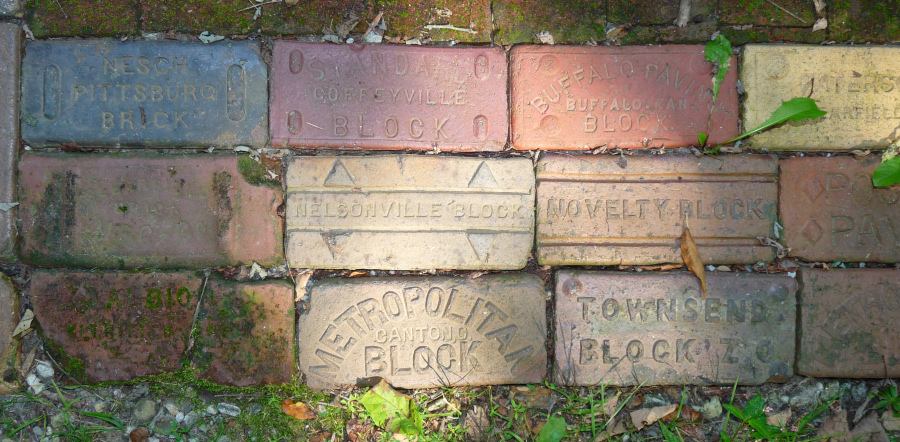 This page has photos showing some of the antique bricks from The Connecticut Museum of  Mining & Mineral Science in Kent, CT.  I have tried my best to list each brick name, but some were too hard to read from the photos alone.  Also, please note these are rather large photos and may take a while to load with a slow Internet connection.

Nesch Pittsburg Brick, Standard Block, Buffalo Paving Block, Nelsonville Block, Novelty Block, Metropolitan Block, Townsend Block

Shawmut PA, WGB Co, 20th Century Paver, Kentucky Block

United Clay, Dawson, Thurber Block, Shackleford, Banner, Middleport Block, Coaldale Block, Athens OH, Townsend Paver, Pittsburg, Liberal B&T Co, Sapulra Pressed Brick, Jamestown Block, Nay-Aug PA, Cowansville, Augusta Block, Minor, Walsh, Hydraulio, CSB Co, Culver Block, Atchison Paving Brick Co, Paterson, Kittg Clay Mfg Co, Donley Brick, Southern Clay, Cowan's, Paterson,

"1930", P&M, No 1 Savage, Gaclede (?), Houston, Nevelis, WLB Co, "Don't Spit on Sidewalk"

Empire, COB Co, Whitacre, Globe, Mex-R-Co, DON B Co, Tuttle, Rose,

Acme Ferris (?), Merwin, MB Co, Weiser, Brockway, RBCo, MRC, Perth Amboy Terra Cotta, Stiles, Kane, DONBCo, Conn, Dawson, Magnum, Wilson, Westwood

P&M, CONN, NEBCo, Palmer, S&R, Sanford, W&CCo, White's Cherry Reds, Simons, SECo, DBCo, Staples, MBCo

"1930", Shares, BBCo, Sponzo, Stiles, S&R, Versailles, American 1913, Greenville Miss., Howard Co,

Ole River, Budd, F&A, OB&V, Javis, Hutton, KBCo, WBCCo, Waco, Tri-Co, Terry Bros, "1927", M&M, Westwood, Inglewood, Keokuk, ESM, "1976", Hutton, Summit, Dallas, Gomoll, "1929", Howard Co, 

Acme Brick, Stiles, "1978", WLBCo, Cullen, DonBCo, SBC Sheeveport, Rose, Tri-Co, "G", JJJ, CONN, Shares, Stiles, Wilson, Merwin, Tuttle, S&R, BBCo

Tuttle, HBCo, Staten Island, Quiglex, Boiler No1, Maryland, Miner, WWCo, Beech Creek, Savage, XX Silyca, Empire, Stiles

Utt Bros Springfield Ill, Harper, Puryngton Paver, VVV Brick & Tile, WWCo, Pueblo, McManigal, Harper Norton, Muskogee, Shale Brick, Trinidad, Penn Branch

EPBCo, Utt Bros, Diamond, Stark Brick, Coffey, Riverside Paver, Nesch, Buffalo, Fort Smith Ark., Wabash Clay Co, Patton, Cleveland, Sapulpa, Yoke Vit. Brick, Atchinson Paving Brick Co, Mitchell St Louis, Dacus, Buffalo Builder

Corning, Ottowa B&T Co, Hickory Brick, Jamestown Block, Nesch, Muskogee Vit Brick, Albion Block, Capital, Mack, Watson, Peebles Block 1908

Buffalo, Union Paver, Tuna Valley, Sparta, Logan Brick, Versailles, Colorado, Tyrone, Omega, Phoenix, HR&CO Shale, Hydraulic, Utt Bros, Johnsonburg PA, Riverside Paver, Saginaw, P&M Paver, TH Boyd & Son, Falls Creek PA, Monongahela Clay

Poston Paver, BARR, Southern Clay, Olean, Patton Paver, South Webster Block, Tuna Valley, Grafton Block, Sharon Block, Porter National, Bradford, Nesch, Standard Vit Brick Co, Shawmut PA, Dickinson Little Rock, Pawhuska, Altoona

Union Paver, Southern Clay, Milton, Pine Grove, Barr, Shawmut PA, Christy St Louis, Alton, Kushequa, Western Paver, Sherbrooke, United Brick & Tile, Omega, Cleveland, Union Brick, Columbus Kansas, Athena, Ridgway

Lane Block, Portsmouth OH, Capital, Poston Paver, BARR, Southern Clay, Olean, Baltimore Block, Parsons VB Co, South Webster Block, Tuna Valley, Grafton Block, Alton, Edwards Brick, Bradford, Porte National, Collinwood Block, Standard Vit Brick, Shawmut PA, United Brick,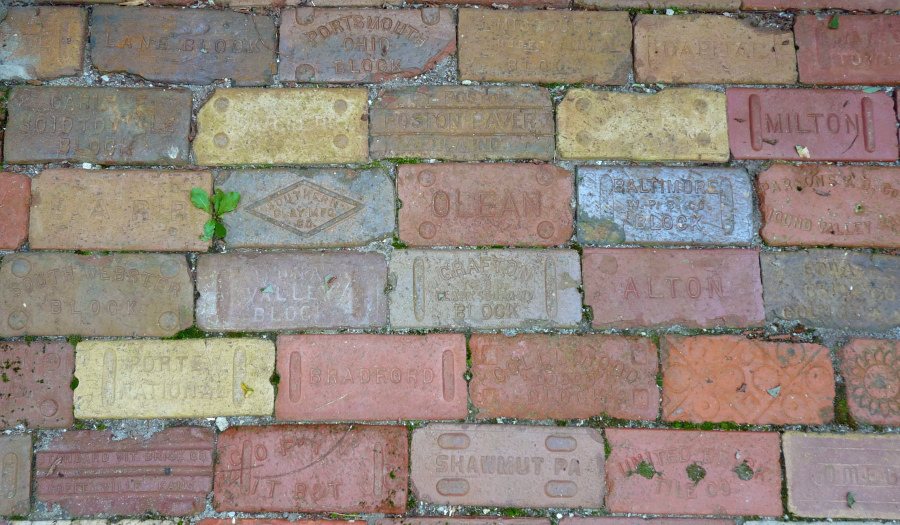 This page was last updated: April 30, 2018